Modicon Quantum
Plc 140CPU31110 CPU,
Analogue Input Module
,
Quantum Backplane Modicon Plc
,
Modicon Tsx Quantum Plc
486 processor, 66MHz, 2M SRAM, 2MB&1MB+.As standard, the CPUs store the application program in a battery-backed internal RAM. This battery is located on the front of the CPU and can be replaced while the CPU is running
CPU PARTS
Programmable PLC
Communicate MODULES
Robots DCS
. A switch enables the application to be made secure against malicious tampering via a remote connection. To protect the application program from inadvertent changes during operation, the CPUs feature a key switch on the front panel to protect the memory. This key switch can also be used to start and stop the CPU. The 140CPU31110 CPU only has a memory-protect slide switch. The high-end 140CPU65150, 140CPU65160, 140CPU65260, 140CPU67060, 140CPU67160, 140CPU67260 and 140CPU67261 CPUs have 2 slots for a PCMCIA card: b An upper slot (no. 0) for a memory expansion card (programs, symbols, constants and/or data storage) b A lower slot (no. 1) for a data storage memory expansion card Besides the large-capacity internal RAM, the high-end 140CPU65860 and 140CPU67861 CPUs have 1 slot for a PCMCIA card: b One slot for a data storage memory expansion card.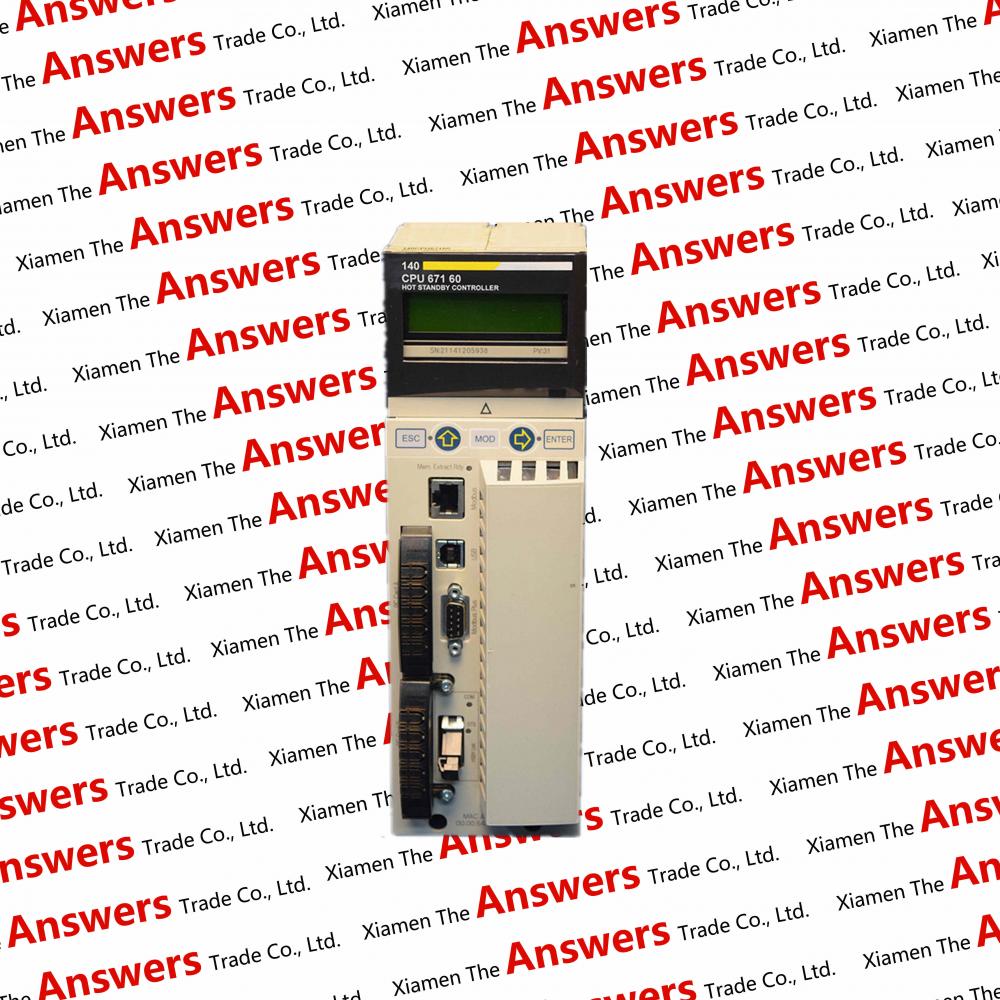 METRONIX ARS2105
6SE6430-2UD31-1CA0
Schneider TSX3722001
AB MVI56-MCM
AB SST-PFB-CLX
LEM-AB-140N-21-NNNN
AB 1764-24BWA
AB 1764-LSP
AB 1769-IF4XOF2
AB 1769-IF8
AB 1769-IQ16
AB 1769-OA16
FOXBORO FBM204
TRICON 3008 CPU
TRICON 4351B TCM
TRICON 8312
WOODWARD GOVERNOR-505
WOODWARD PROTECH-203
TE 140ACI03000
TE 140ATI03000
TE 140CPU53414B
TE 140CRA93100
TE 140CRP93100
TE 140DDI35300
TE 140DDO35300
TE 140NOE77101
6DD1681-0AH2
AB 1768-ENBT
AB 1768-L43
AB 1768-PB3
AB 2094-BC02-M02-S
AB 2094-BM02-S
AB 1771-ASB
AB 1771-IVN
AB 1771-OBN
AB 1771-OFE2
AB 1771-P4S
AB 1771-P6S
AB 1771-P7
AB 1785-BCM
AB 1785-L40B
AB 1785-L60B
GE IC693CPU374
Alteon 3408
GE IC200ALG321
GE IC200EBI001
GE IC200MDD844
GE IC200MDL650
GE IC200MDL750
GE IC695CRU320
GE IC695PSD140
GE IC695RMX128
NI PCI-7813R
GE IC693CPU374
FBM204
6ES7153-1AA03-OXBO 153
6ES7321-1BL00-OAA0 DI
6ES7322-1BL00-0AA0 DI
6ES7331-7KF02-OABO AI
6ES7332-5HD01-0AB0 AI
6ES7332-5HFOO-OABO AO
6GK7343-1EX30-OXEO
SCHNEIDER MICROLOGIC 2.0A
FOXBORO FBM204
AB 2090-BL75S
AB 2094-BC04-M03-S
AB 2094-BM01-S
AB 2094-BM03-S
SIEMENS ED63S100A
SIEMENS FXD63S250A
SIEMENS JXD63S400A
SIEMENS LXD63S600A
SIEMENS MXD63S800A
SIEMENS NXD63S120A
SIEMENS "S01JLD6 "
SIEMENS "S01MN6 "
SEW 31C007-503-4-00
AB 1746-IB16
AB 1746-ITB16
AB 1746-NI04I
AB 1746-OB16
AB 1747-AIC
AB 1747-L531
PISO-P32C32 I/O
VME V7768-320000 CPU
SIEMENS RWX62.5030
NI PCI-6115
LE4-108-XR1
LE4-116-DD1
LE4-116-DX1
PS4-201-MM1
SIEMENS 6AV6 643-0CD01-1AX1
SIEMENS 6ES7 315-2AH14-0AB0
VIPA 972-0DP10
SIEMENS RWX62.5030
YASKAWA PMES-09A24
B204-C23
SIEMENS 6FC5210-0DF31-2AA0
A20B-2100-0251
A20B-2100-0541
FOXBORO FBM204 DCS
TE 140ARI03010
TE 140CPU53414B
6FC5110-0DB02-0AA2
ABB PM510V16
B&R ECPP60-01
Semtronics ZVI 5100
MOTOROLA MVME 162-020A CPU
MOTOROLA MVME 224A-3 CPU
AB 1746-OW16
AB 1747-L542
A-B 1756-OB32
AB 1771-VHSC
AB 1794-OW8
A-B 1794-TB3
AB 1746-NO8I
ABB 1336F-MCB-SP1C
AB 1391B-ESAA45-AQB


Looking for ideal Unity Processor 140CPU31110 Manufacturer & supplier ? We have a wide selection at great prices to help you get creative. All the 2 Local Racks are quality guaranteed. We are China Origin Factory of CPU 486 Processor. If you have any question, please feel free to contact us.