3601E TRICONEX 3601E OUTPUT MODULE DIGITAL 3601E TRICONEX INVENSYS Cards Analog Input Module CPU PARTS Programmable PLC Communicate MODULES Robots DCS.Each input module consists of three identical and independent circuits, called legs, contained on a single input card. The isolated input on each leg of each input module receives sensor outputs that are received on a field termination point. The microprocessor in each leg continually polls the input points, and constantly updates an input data table in the local memory of each leg.
Model Number 3601E
Nominal Voltage 115 VAC
Type TMR, DO
Output Signals 16, non-commoned
Voltage Range 80-155 VAC
Voltage Drop1 < 3V, typical
Frequency Range 47-63 Hz
Current Ratings, 2A per point
Maximum 12A surge/cycle
Load Leakage 2 mA maximum @ 60 Hz
Chassis Leakage 4 mA maximum @ 60 Hz
Fuses (on Field 1 per output,
Termination) 3A fast-acting
Point Isolation 1,500 VDC/ 2500 VDC2
Diagnostic Indicators
On or Off state 1 per point
Module Status PASS, FAULT, ACTIVE
Field Alarm LOAD/FUSE
Color Code Green
MFG: TRICONEX, Made in USA
PO-32(98)
PO-32(98)E
PO-32(98)H
PO-32T(98)
PO-32T(98)E
PO-48T(98)
PO-64(98)K
RRY-32(98)
SSR-16(98)
W-BUS(98)
WRY/RRY-16(98)
GP-IB(98) 1
GP-IB(98)D
GP-IB(98)N
GP-IB(9N)N
GP-IB-R(98)
SIO-2(98)
SIO-2(98)H
SIO-2(98)N
SIO-2D/24(98)
SIO-2DS(98)
SIO-2PD(98)
SIO-2S(98)V
SIO-2S(98)V
SIO-4S(98)V
CNT16-32S(98)
CNT24-2A(98)
CNT24-2A(98)H
CNT24-4(98)E
CNT24-4A(98)
CNT24-4A(98)H
PMC-1(98)
PMC-1C(98)
PTO-8(98)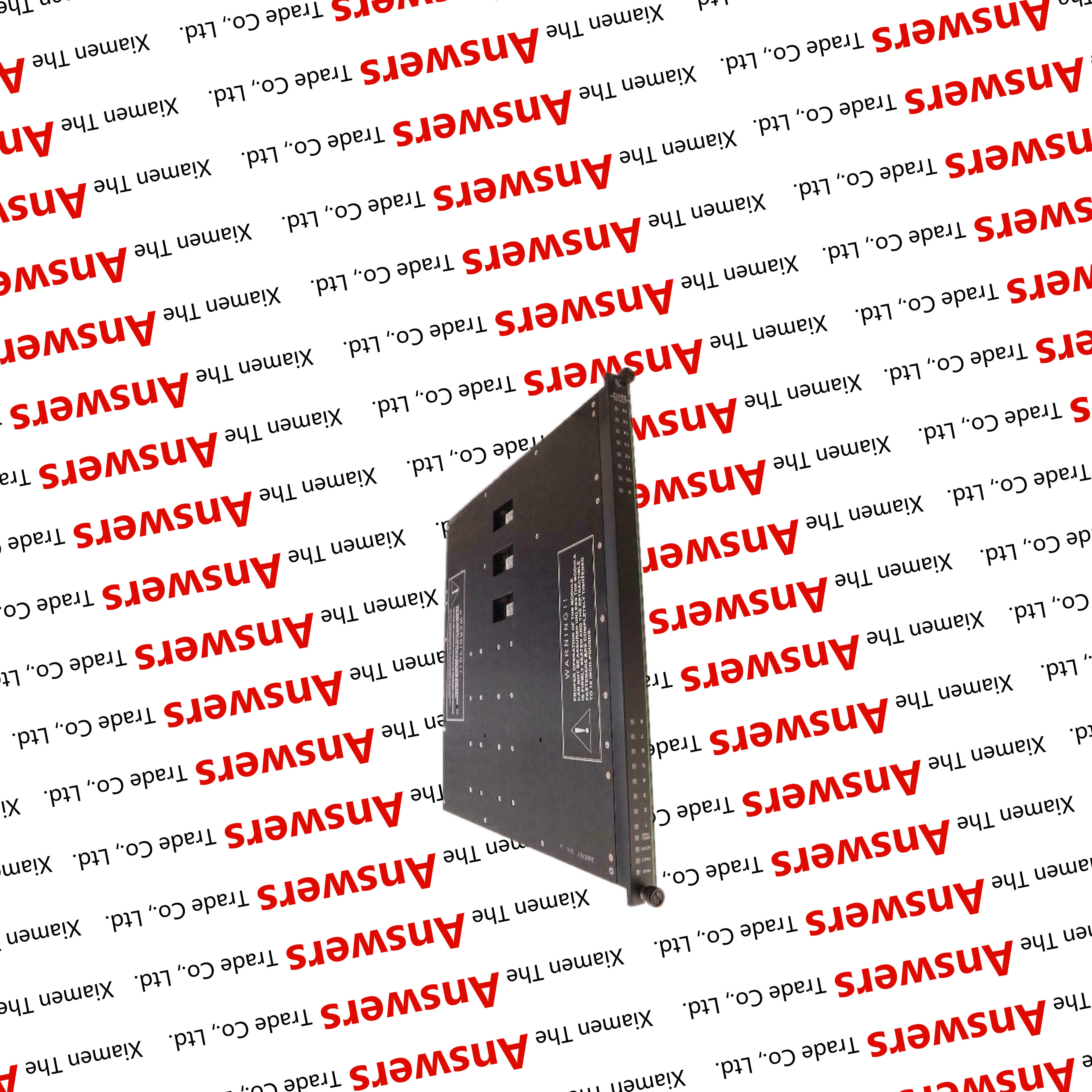 UC16-2(98)
ATP-8H(98)
BUS-98(98)H
CARD-DISK(98)
CM-32(98)E
CM-32H(98)
CM-32H(98)K
CM-48H(98)
EEROM-DISK(98)H-01
EEROM-DISK(98)H-03
EPD-50
EXT(98)
FA-LANⅢ(98)S-02
FTP-15
FTP-36H(98)
FTP-50H(98)
LABO(98)-05
LINK-NET(98)
PC-80286(98)MS-02
PC-IDE/FD(98)A
PPG-8(98)
PSD-50(98)J
RAM-DISK(98)H
ROM-256(98)
ROM-DISK(98)H-01
ROM-DISK(98)H-02
ROM-DISK(98)P
STP-50H(98)
SUPPORT-PAC(98)502
Looking for ideal TRICONEX 3601E Tricon Manufacturer & supplier ? We have a wide selection at great prices to help you get creative. All the OUTPUT MODULE DIGITAL are quality guaranteed. We are China Origin Factory of Nominal Voltage 115 VAC. If you have any question, please feel free to contact us.
Product Categories : TRICONEX INVENSYS Cards