Simatic S5 Programmable 6AV3503-1DB10 Operator Interface Panel OP3 Simatic S5 Programmable Controller CPU PARTS Controller Simatic S5 Controller Plc Siemens Simatic S5 Cpu Simatic S5.We have checked the contents of this manual for agreement with the hardware and software described. Since deviations cannot be precluded entirely, we cannot guarantee full agreement. However, the data in this manual are reviewed regularly and any necessary corrections included in subsequent editions. Suggestions for improvement are welcomed.This equipment manual provides operators, fitters, configurers and system support engineers with information about the functionality and technical design of the OP3.
Simatic S5 HMI 6AV3503-1DB10
Simatic S5 HMI 6AV3503-1DB10
Simatic S5 HMI 6AV3503-1DB10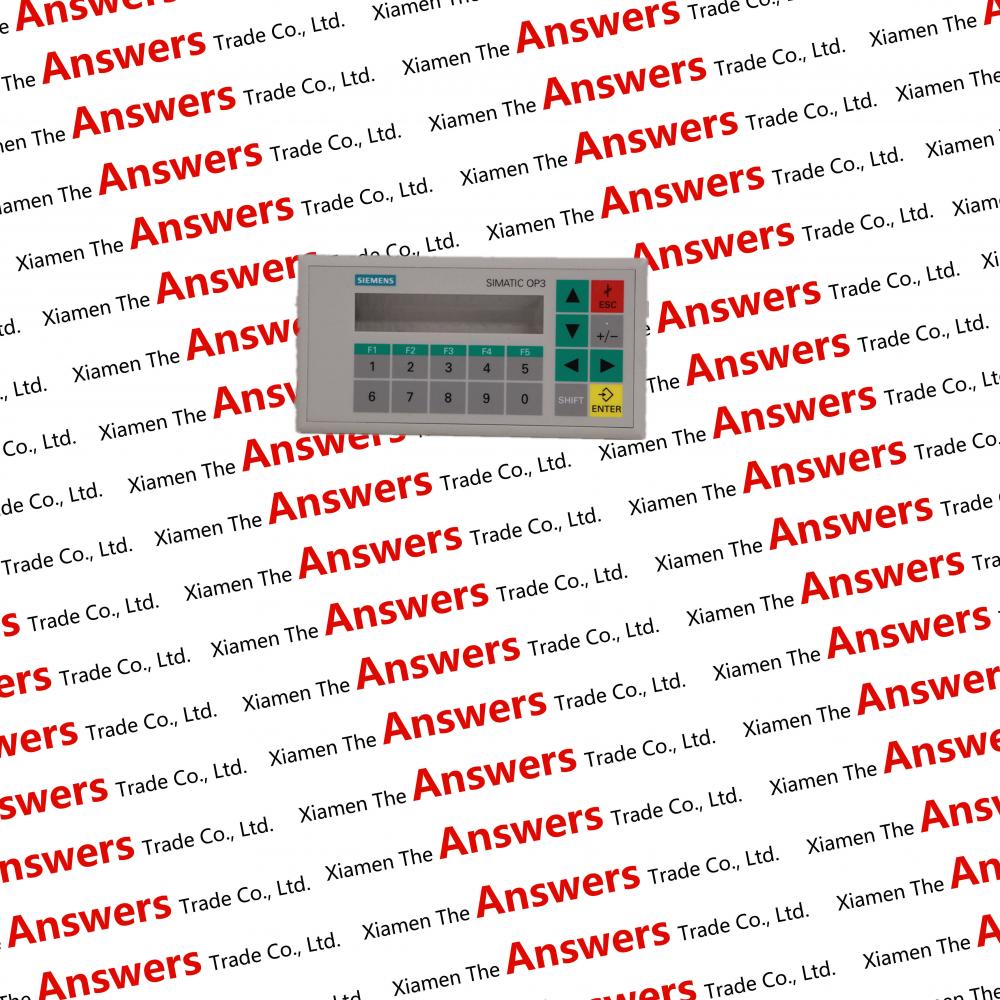 6ES5385-8MA11
6ES5385-8MB11
6ES5393-0UA14
6ES5393-0UA15
6ES5395-0UA11
6ES5395-0UA21
6ES5396-0UA11
6ES5400-7AA12
6ES5400-7AA13
6ES5405-7AB21
6ES5410-7AA11
6ES5415-7AB21
6ES5417-7AA11
6ES5417-7AA21
6ES5420-1BA11
6ES5420-3BA11
6ES5420-4UA11
6ES5420-4UA12
6ES5420-4UA13
6ES5420-4UA14
6ES5420-5AA11
6ES5420-7LA11
6ES5420-8MA11
6ES5421-8MA11
6ES5421-8MA12
6ES5422-8MA11
6ES5430-3BA11
6ES5430-4UA11
6ES5430-4UA12
6ES5430-4UA13
6ES5430-4UA14
6ES5430-6AA11
6ES5430-7LA11
6ES5430-7LA12
6ES5430-8MB11
6ES5430-8MC11
6ES5430-8MD11
6ES5431-8MA11
6ES5431-8MC11
6ES5431-8MD11
6ES5432-3BA12
6ES5432-4UA12
6ES5433-7LA11
6ES5433-8MA11
6ES5434-7LA12
6ES5435-7LA11
6ES5436-4UA12
6ES5436-7LA11
6ES5437-8EA12
6ES5440-5AA11
6ES5440-8MA21
6ES5441-4UA11
6ES5441-4UA12
6ES5441-4UA13
6ES5441-4UA14
6ES5441-7LA11
6ES5441-7LA12
6ES5441-7LA13
6ES5441-8MA11
6ES5444-3AA11
6ES5445-3AA12
6ES5450-6AA11
6ES5450-6AA12
6ES5450-8MB11
6ES5450-8MD11
6ES5451-2BA11
6ES5451-3AA11
6ES5451-4UA11
6ES5451-4UA12
6ES5451-4UA13
6ES5451-4UA14
6ES5451-5AA13
Looking for ideal Simatic S5 HMI 6AV3503-1DB10 Manufacturer & supplier ? We have a wide selection at great prices to help you get creative. All the Operator Interface Panel OP3 are quality guaranteed. We are China Origin Factory of With the Cables. If you have any question, please feel free to contact us.
Product Categories : SIEMENS Parts > Simatic S5 Programmable Controller