Simatic S5 Programmable 6ES5090-8ME11 IM90 Interface Module CPU PARTS Controller Simatic S5 Controller Plc Siemens Simatic S5 Cpu Simatic S5.Module Spectrum (Chapters 15 and 16) These chapters contain information about all the currently available S5-100U modules that you can use to expand your controller. Chapter 16, Function Modules, includes the modules that require an extensive description (i.e., more than just technical specifications). • Overviews (Appendices) In these chapters you will find not only a complete list of operations but also the technical specifications of the PLCs, RAM address assignments, system data assignments, dimension drawings, a description of errors that may occur during operation of the Programmable Controller, maintenance and repair procedures, guidelines for handling electrostatic sensitive devices, a list of accessories, and reference literature about programmable controllers.
Siemens Simatic 6ES5090-8ME11
Siemens Simatic 6ES5090-8ME11
Siemens Simatic 6ES5090-8ME11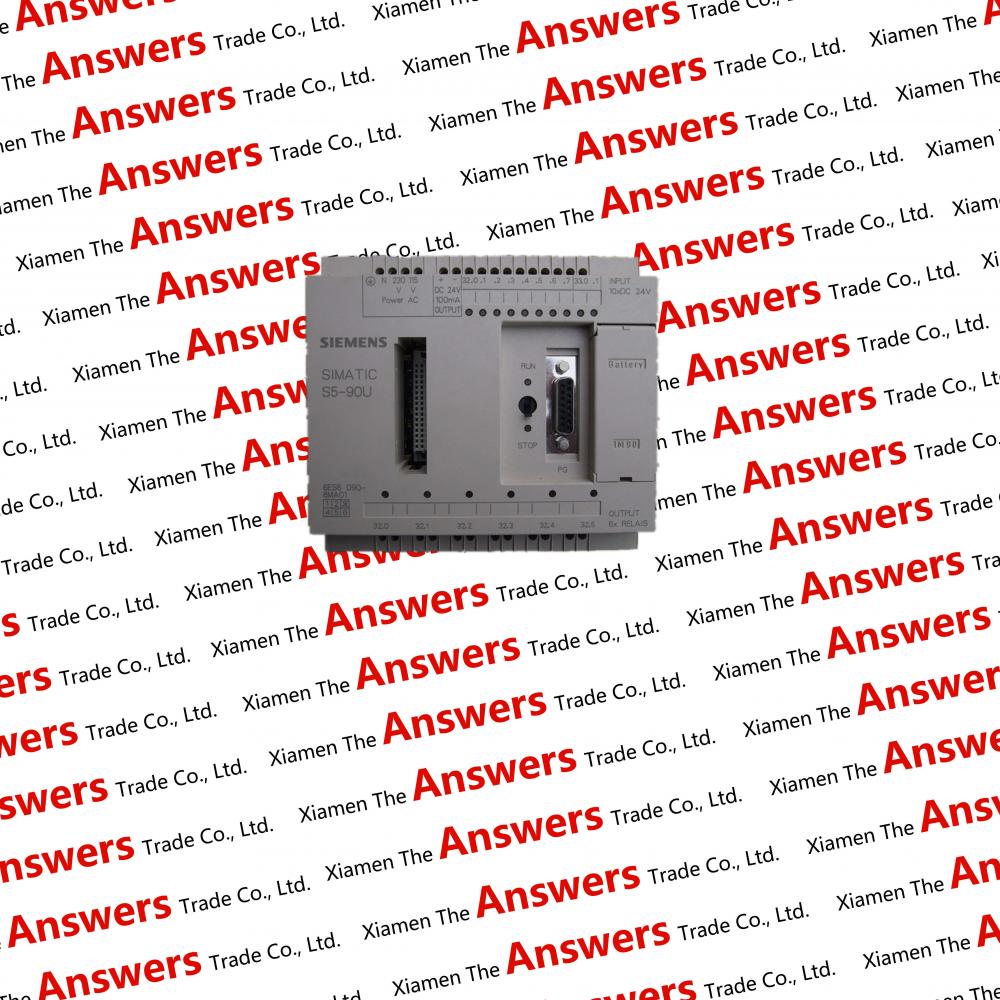 6ES5375-0LA41
6ES5375-0LA61
6ES5375-0LA71
6ES5375-0LB11
6ES5375-0LB21
6ES5375-0LC11
6ES5375-0LC21
6ES5375-0LC31
6ES5375-0LC41
6ES5375-0LD11
6ES5375-0LD21
6ES5375-0LD31
6ES5375-1LA15
6ES5375-1LA21
6ES5375-1LA41
6ES5375-1LA71
6ES5375-8LC21
6ES5376-0AA11
6ES5376-0AA21
6ES5376-1AA11
6ES5376-1AA21
6ES5376-1AA31
6ES5377-0AA11
6ES5377-0AA21
6ES5377-0AA31
6ES5377-0AA32
6ES5377-0AA41
6ES5377-0AB21
6ES5377-0AB31
6ES5377-0AB41
6ES5377-0BA31
6ES5380-7AA11
6ES5380-7AA12
6ES5382-0AA31
6ES5385-8MA11
6ES5385-8MB11
6ES5393-0UA14
6ES5393-0UA15
6ES5395-0UA11
6ES5395-0UA21
6ES5396-0UA11
6ES5400-7AA12
6ES5400-7AA13
6ES5405-7AB21
6ES5410-7AA11
6ES5415-7AB21
6ES5417-7AA11
6ES5417-7AA21
6ES5420-1BA11
6ES5420-3BA11
6ES5420-4UA11
6ES5420-4UA12
6ES5420-4UA13
6ES5420-4UA14
6ES5420-5AA11
6ES5420-7LA11
6ES5420-8MA11
6ES5421-8MA11
6ES5421-8MA12
6ES5422-8MA11
6ES5430-3BA11
6ES5430-4UA11
6ES5430-4UA12
6ES5430-4UA13
6ES5430-4UA14
6ES5430-6AA11
6ES5430-7LA11
6ES5430-7LA12
6ES5430-8MB11
6ES5430-8MC11
6ES5430-8MD11
6ES5431-8MA11
6ES5431-8MC11
6ES5431-8MD11
6ES5432-3BA12
6ES5432-4UA12
6ES5433-7LA11
6ES5433-8MA11
6ES5434-7LA12
6ES5435-7LA11
6ES5436-4UA12

Looking for ideal Siemens Simatic 6ES5090-8ME11 Manufacturer & supplier ? We have a wide selection at great prices to help you get creative. All the IM90 Interface Module are quality guaranteed. We are China Origin Factory of High Ends Plcs. If you have any question, please feel free to contact us.
Product Categories : SIEMENS Parts > Simatic S5 Programmable Controller