Schneide 800 Series I/O Modules AS-B882-239 High Speed Counter Module Programmable PLC I/O Modules Digital I/O Module I/O Extension Module.This manual is a reference document for the 800 series I/O modules with Unity. The manual provides an overview, keying and wiring information, specifications, and parameter configuring information for four types of modules: z RIO drop z analog z discrete z special purpose The manual displays both 984LL and IEC notation, but most module descriptions use 984LL notation. Conversion charts appear in the first chapters. z Converting Direct Address Notation (see page 593) z Flat Addressing (see page 596) Users should be familiar with automation controls and be qualified to install and operate automation equipment. Module availability: z Some modules may no longer be available for sale. z For the status of particular modules, please contact your local sales office. z To locate a sales office.
AS-B882-239 High Speed Counter Module
AS-B882-239 High Speed Counter Module
AS-B882-239 High Speed Counter Module
AS-B882-239 High Speed Counter Module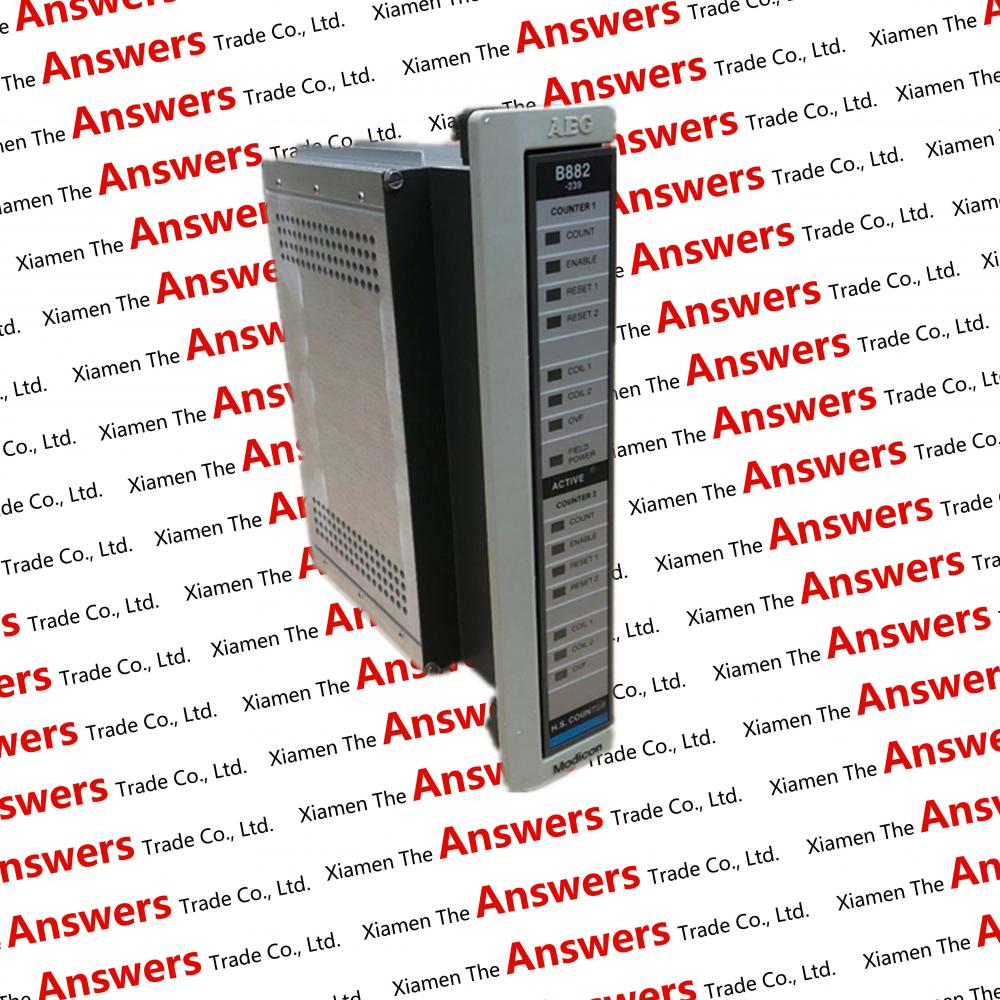 3 JAMSC-B2500V
54 JAMSC-B2504
56 JAMSC-B2603
57 JAMSC-B2604
58 JAMSC-B2605
59 JAMSC-B2700
60 JAMSC-B2701
61 JAMSC-B2702
63 JAMSC-B27C2
64 JAMSC-B2801
65 JAMSC-B2803
66 JAMSC-B2808
67 JAMSC-B2813T
69 JAMSC-B2902
70 JAMSC-C8110
72 JAMSC-C8150
73 JAMSC-C8610E
74 JAMSC-IF60
75 JAMSC-IF61
76 JAMSC-IF612
78 JAMSC-IF64
79 JAMSC-IF70T
80 JAMSC-IF70V
81 JAMSC-P8051
82 JAMSC-S8125
83 JANCD-CG23-1
84 JANCD-FC861
85 JANCD-JIF01-1
86 JANCD-JIF01-2
87 JANCD-JCP05-1
88 JANCD-SR20B-1
89 JANCD-SR21-1
90 JEFMC-CU10-10C
91 JRMSI-B1027
Memocon-SC U84 Mount-Base 4
92 JRMSI-B1034
93 JRMSI-B1021
94 JRMSI-B1025
95 JRMSP-P8051
96 JRMSP-P8051Y
97 JRMSP-P8054
98 JRMSP-P8101
99 JRMSP-PS22A
100 JRMSP-PS40
101 JRMSP-PS60
102 JUSP-RA05
103 JUSP-TYNCIC
104 JZMSZ-W622
105 JZNC-J0P04C-4
106 S02535-3A-BMI
107 SGDA-01BPY122
109 SGDC-15AJA
110 SGDC-20AJA-F
111 SGDC-20AJA-FY16
112 SGDC-30AJA-FY16(B)
113 SGDC-30AJAY16

Looking for ideal Modicon PLC AS-B882-239 Manufacturer & supplier ? We have a wide selection at great prices to help you get creative. All the High Speed Counter Module are quality guaranteed. We are China Origin Factory of Converting Direct Address Notation. If you have any question, please feel free to contact us.
Product Categories : Schneider Modicon > Schneide 800 Series I/O Modules