Modicon Quantum PLC 140CPU11302
Analogue Input Module
,
Quantum Backplane Modicon Plc
,
Modicon Tsx Quantum Plc
The CPUs for the
Modicon Quantum
automation platform are based on highperformance processors and are compatible with Unity Pro software. Numerous functions are included as standard in Quantum CPUs: b Superior scan times and fast I/O acquisition b Ability to handle interrupts (timed and I/O based) b Handling of Fast task, as well as a Master task b Memory expansion using PCMCIA cards b Multiple communication ports integrated in the CPU b Ease of diagnostics and maintenance via the LCD display block on the front panel of high-end CPUs The CPUs offered have different memory capacities, processing speeds and communication options.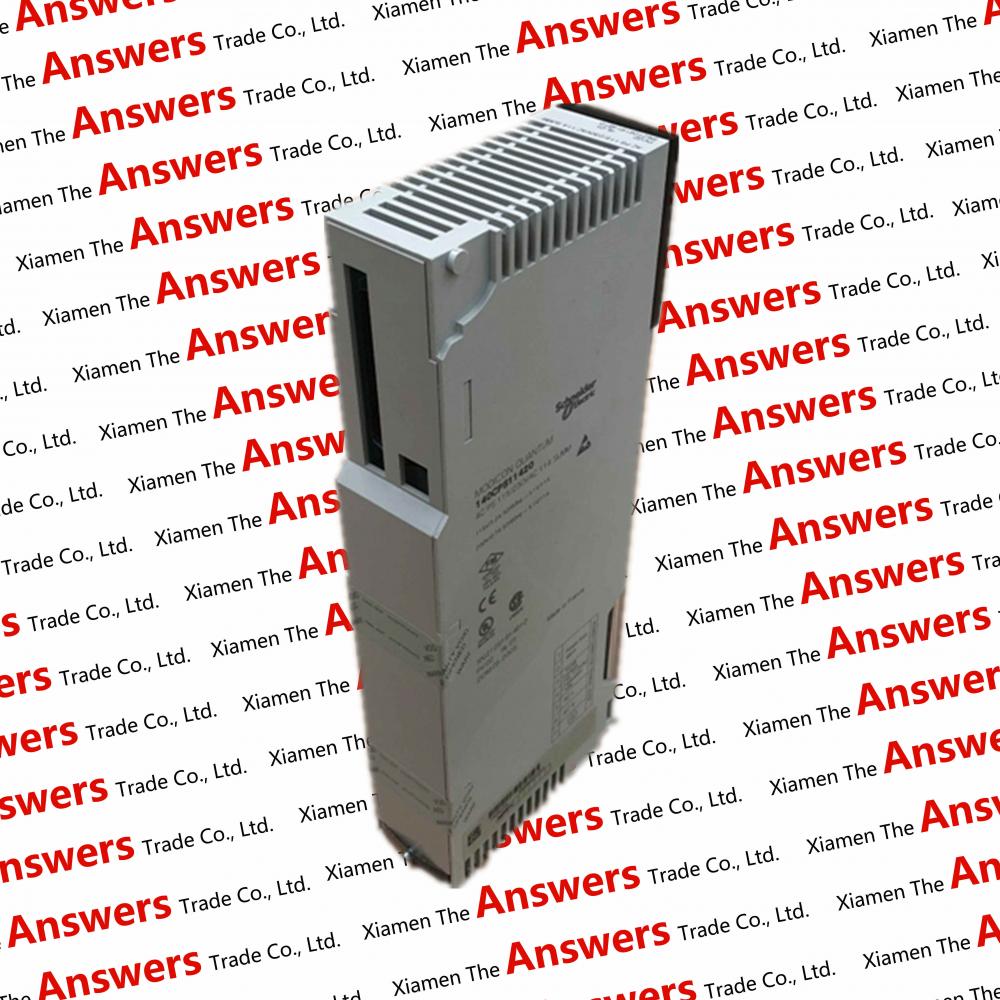 AB 1756-ENBT
AB 1756-L61
AB 1756-PA72
GE IC695NKT002
AB 1756-BA1
AB 1756-CP3
AB 1756-IB16
AB 1756-IB32
AB 1756-IF8
AB 1756-OB16E
AB 1756-OF4
AB 1756-TBCH
AB 1756-TBNH
AB 2094-BM02-S
AB 2098-DSD-HV150-SE
AB 22B-D4P0N104
0 608 820 103 4MC160
motorola R2660D
3G2A5-RT201
ABB 3HAC16831-1
ECI XDM 100
ZZ-OEM USA4-11-28-UR
YASKAWA MEW01-1
GE IC693CPU364
ABB CI810B
ABB DSAI130
ABB DSAO120
ABB DSDP170
GE IC693BEM331
GE IC693CMM321
GE IC693CPU360
GE IC693MDL655
GE IC693MDL940
ABB DSBC176
FOXBORO P0903CW
FANUC A06B-0075-B103
Heidenhain TS 649 SK 40
A-B 1746-IB16
A-B 1746-IB8
A-B 1746-OB16
A-B 1746-OB8
A-B 1747-L541
A-B 1747-SN
193987GA
MOELLER N11-400-CNA
AVG EZ-S6C-F
140DAI74000
140DDO35300
AB 20-750-2262C-2R
ABB 3HAC023195-001
VIPA SSN-BG89A
Bosch SM15/30-TC
A-B 1747-L541C
A-B 1756-A13
A-B 1756-DNB
A-B 1756-IF16
A-B 1756-OF8
A-B 1756-OW16I
A-B 1756-PA72
140DDO35300
140CPU67160
AB 1398-DDM-030 SGMG-20A2BB
HD-CDIM00
HD-CDOM00
AB 1769-OF8C
AB 1746-OW16
4407B
5061B
5071C
9020A
AB 1756-PB75
AB 1769-ECR
AB 1769-IA16
AB 1769-IQ16
AB 1769-OB16
AB 1769-SDN
AB 22B-D010N104
AB 22B-D2P3N104
AB 22-COMM-D
AB 440R-M23143
AB 440R-N23132
MKD041B-144-GG1-KN
FBM204
ABB 3HAC025097-001/08 DSQC639
FOXBORO FBM204
AB4A0088
VB4A0002BBA 0.75KW
A-B 1756-CNB/E
A06B-6130-H002
A06B-6130-H003
HD-CDIBS00 SGMAV-04A3A61
821GM-IS1SH2-M
823DP-13SISM2-M
YASKAWA JAMSC-B2110AV
YASKAWA JAMSC-B2504V DO
YASKAWA JAMSC-B2603V DI
YASKAWA JAMSC-B2742V AO
YASKAWA JRMSI-MB22A
YASKAWA JRMSP-PS22AV
FBM204
AB 1606-XL240E
MLPS-10A60
6ES7131-0BL00-0XB0
6ES7132-0BL01-0XB0
AB 2094BC04M03-S
6DS1412-8RR
6DS1717-8RR


Looking for ideal
CPU Module
140CPU11302 Manufacturer & supplier ? We have a wide selection at great prices to help you get creative. All the 256k 1 Modbus RS232 are quality guaranteed. We are China Origin Factory of Processor Concept ProWORX 32. If you have any question, please feel free to contact us.
Product Categories : Schneider Modicon > Modicon Quantum PLC