Modicon Quantum
Plc140ACI03000 is
Analogue Input Module
,
Quantum Backplane Modicon Plc
,
Modicon Tsx Quantum Plc
Analog Input Module
Modicon Quantum - 8 I multirange.The Modicon STB distributed I/O solution is an open, modular input/output system that makes it possible to design automation islands managed by a master controller via a bus or communication network. These islands can be used to connect: b TeSys U or TeSys T starter-controllers b Altivar variable speed drives b FTB IP 67 distributed I/O b OsiSense rotary encoders b Magelis operator dialog terminals b Approved third-party products via the CANopen bus: Bosch, Festo, Parker solenoid valves, Balluff linear encoders, etc. (1) Advantys software guides users through the design phase, start-up, and even maintenance of the system. This single software package covers the Modicon STB, OTB, FTB, and FTM ranges. The island components are electronic modules mounted on one or more DIN rails. These clusters of modules, known as segments, carry a bus from beginning to end of each island. The island bus provides power distribution, signal sensing, and power management to compatible modules, in the form of a wiring management system. The Modicon STB I/O family is divided into 2 groups of modules: b Basic modules: A complete set of low-cost modules, with simplified operating modes b Standard modules: An expanded offer of
I/O Modules
, with additional functions: Configurable parameters, expanded operating modes The basic range comprises: b PDM power distribution modules (24 V c and 115/230 V a) b I/O modules: v Discrete I/O (24 V c) v Analog I/O (10-bit resolution) The standard range comprises: b NIM modules: network interfaces b PDM power distribution modules (24 V c and 115/230 V a) b I/O modules: v Discrete I/O (24 V c and 115/230 V a) v Analog I/O (10, 12 and 16-bit resolution) v Relay outputs (24 V c coil and 24 V c contact or 115/230 V a) b Application module: Counter module, HART multiplexer module b Dedicated module: For TeSys U and TeSys Quickfit applications b EOS end of segment and BOS beginning of segment modules b External equipment support module on CANopen expansion module.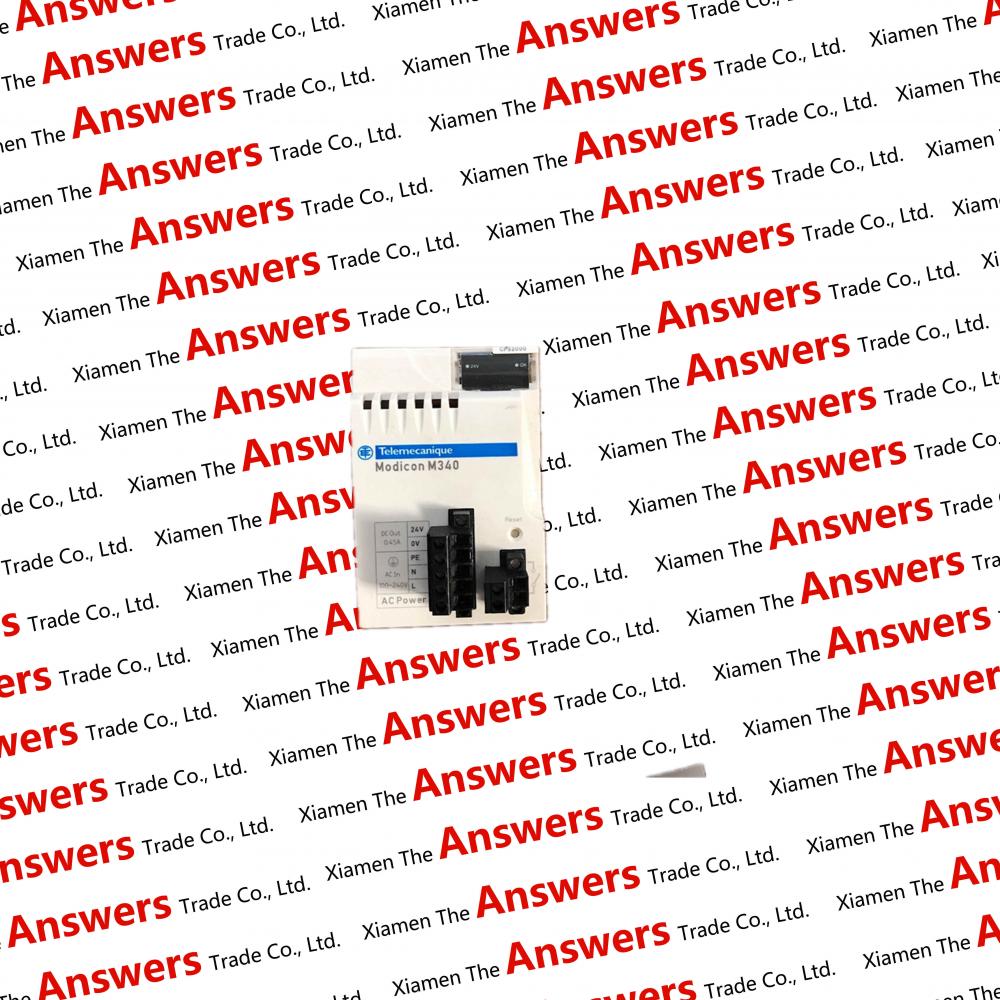 AB 1746-N14
AB 1746-N18
AB 1746-NO4V
AB 1746-OW16
AB 1747-L532
AB XCMD2145L1
ABB 3GQA091501-ASA
140ACO13000
140CHS11000
140CPS11100
140CPS11420
140CPS12420
140CPU11303
140CRA93101
140CRP93100
140DDI35300
140DDO35300
490NAA27103
990NAD23000
A-B 1784-PCIC
FANUC A02B-0280-B502
6SC6508-4AA02
NI PCI4451
TRICON 3703E
TRICON 4210
AB 1747-OCEEEBA PLC
AB 1747-OCS92 PLC
MARCH AP-1000
6AV6545-OAG10-0AX0
PWS920S-LED
NI PCI 4451
6ES7-972-0AA02-0XA0
PC-E984-785
HP 35670A
ABB ICSA04B5 plc
ROD 426B
FANUC A06B-0243-B100
SEW MDX61B-0030-5A3-4-00
SEW MDX61B-0055-5A3-4-00
SEW MDX61B-0075-5A3-4-00
BOSCH KE300 0608830162
BOSCH VM310 0608750109
AB 1756-EN2T
AB 1756-ENBT
AB 1756-L61
AB 1756-PB72
Medical 55-MD2PC12-0A
SIEMENS 6ES7214-2BD23-0XB8
SIEMENS 6ES7223-1PL22-0XA8
SIEMENS 6RA7025-6DV62-0
SIEMENS 6RA7081-6DV62-0
SIEMENS 6RX1700-0AS00
ABB CI810B
GE IC693BEM331
GE IC693CMM321
GE IC693CPU360
GE IC693MDL655
GE IC693MDL940
R48-1800A
140ACI04000
140ARI03010
140CPS11100
140CRA93100
140CRP93100
SCHNEIDER 140ACI04000
SCHNEIDER 140ACO02000
SCHNEIDER 140ARI03010
SCHNEIDER 140CPS11420
SCHNEIDER 140CPU65260
SCHNEIDER 140CRA93200
SCHNEIDER 140CRP93200
SCHNEIDER 140DAI75300
SCHNEIDER 140DDO35300
SCHNEIDER PTQ-PDPMV1
REXROTH TDM1.2-100-300-W1
FANUC A06B-6088-H222#H500
140ACI03000
140ARI03010
140CPS12420
140DAI75300
140DAO85300
6ES7321-IBL00-0AA0
6ES7322-1HH01-0AA0
6ES7331-7KF02-0AB0
6ES7338-4BC01-0AB0
6GK7343-1EX11-0XE0
BMXCPS2000
BMXDDI1602
BMXDDO1602
GE IC697BEM731
GE IC697CHS790
GE IC697CMM711
GE IC697CMM742
GE IC697CPM790
GE IC697PWR711
ABB RLM01
TK-FTEB01
TK-IOLI01
TK-PPD011
FXM5
ABB C1801
ABB DO810
ABB EI813F
ABB FI820F
ABB FI830F
ABB TU810
AB 1756-ENBT/A
AB 1756-IF16/A
AB 1756-L61
AB 1756-OB32/A
AB 1756-OF8
AB 1756-PA72/C
140AVI03000
140CPU11303
140CRA93100
140CRP93100
140DAI74000
VIPA SM221
VIPA SM222
A-B 1746-A13
A-B 1746-C16
A-B 1746-IB32
A-B 1746-NI8
A-B 1746-NO8I
A-B 1746-OB32
A-B 1746-P4 PLC
A-B 1747-L552
AB 1756-IF16
AB 1756-L61
AB 1756-OB32
AB 1756-OF8
ABB AX521
ABB CPU PM571
ABB TB511-ETH
LG SV055IGX-4
RELIANCE 5PY59JY109
RELIANCE 5PY59JY110
RELIANCE 73126-6R
SIEMENS 6SC6111-2AA00
AB 1747-L551
woodward 8901-457
FOXBORO P0970WV
SIEMENS 6SN1123-1AA00-0DA1
SIEMENS 6DD1661-0AE1
SIEMENS 6DD1661-OAD1
SIEMENS 6ES7041-8HK85-1HA0
SIEMENS 6ES7416-2XK04-0AB0
SIEMENS 6GK7443-1EX20-0XE0
SIEMENS 6SY7010-0AB28
SIEMENS 6SY7010-0AB30
MATROX METEOR2-MC/1C
AB 1756-A13
AB 1756-A17
Looking for ideal Modicon Quantum 140ACI03000 Manufacturer & supplier ? We have a wide selection at great prices to help you get creative. All the Analogue Input Module are quality guaranteed. We are China Origin Factory of 9 Input Words 12 Bits. If you have any question, please feel free to contact us.
Product Categories : Schneider Modicon > Modicon Quantum PLC