Modicon Premium PLC TSXPSY1610 Power Supply Module . A display block with 5 LEDs: v RUN LED (green): Processor in operation (program running) v ERR LED (red): Controller detected fault on the processor or its on-board devices (PCMCIA memory card and PCMCIA communication card) v I/O LED (red): Controller detected fault occurring on another station module or configuration fault v TER LED (yellow): Activity on the AUX terminal port v FIP LED (red): Activity on integrated Fipio bus (TSX P57 454/554M model) In the case of models with an integrated Ethernet port (TSX P57 4634M/5634M/6634M), this display block features 6 additional LEDs: v RUN LED (green): Ethernet port ready v ERR LED (red): Ethernet port inoperative v COL LED (red): Collision detection v STS LED (yellow): Ethernet link diagnostics Two TX and RX LEDs (yellow): Transmission/reception activity 2 A "Memory extract" button for extracting the PCMCIA memory extension card. The associated "Memory extract ready" LED indicates that this card can be extracted safely. 3 RESET button causing a cold restart of the PLC when it is activated 4 An 8-way female mini-DIN connector marked AUX for connecting a programming, adjustment or operator dialog terminal 5 A USB type connector marked TER for connecting a programming terminal (requires the PC-compatible 3 m connection cable, reference UNY XCA USB 033, to be ordered separately) 6 A PCMCIA slot (no. 0) for a memory extension card 7 A PCMCIA slot (no. 1) for a communication card or memory extension card for storing additional data 8 A 9-way SUB-D connector (on TSX P57 454M/554M models) for Fipio bus communication (Fipio manager port) 9 An RJ45 connector (on TSX P57 4634M/5634M/6634M models)CPU PARTS Programmable PLC Communicate MODULES Robots DCS.
TSXPSY1610 Power Supply Module
TSXPSY1610 Power Supply Module
TSXPSY1610 Power Supply Module
TSXPSY1610 Power Supply Module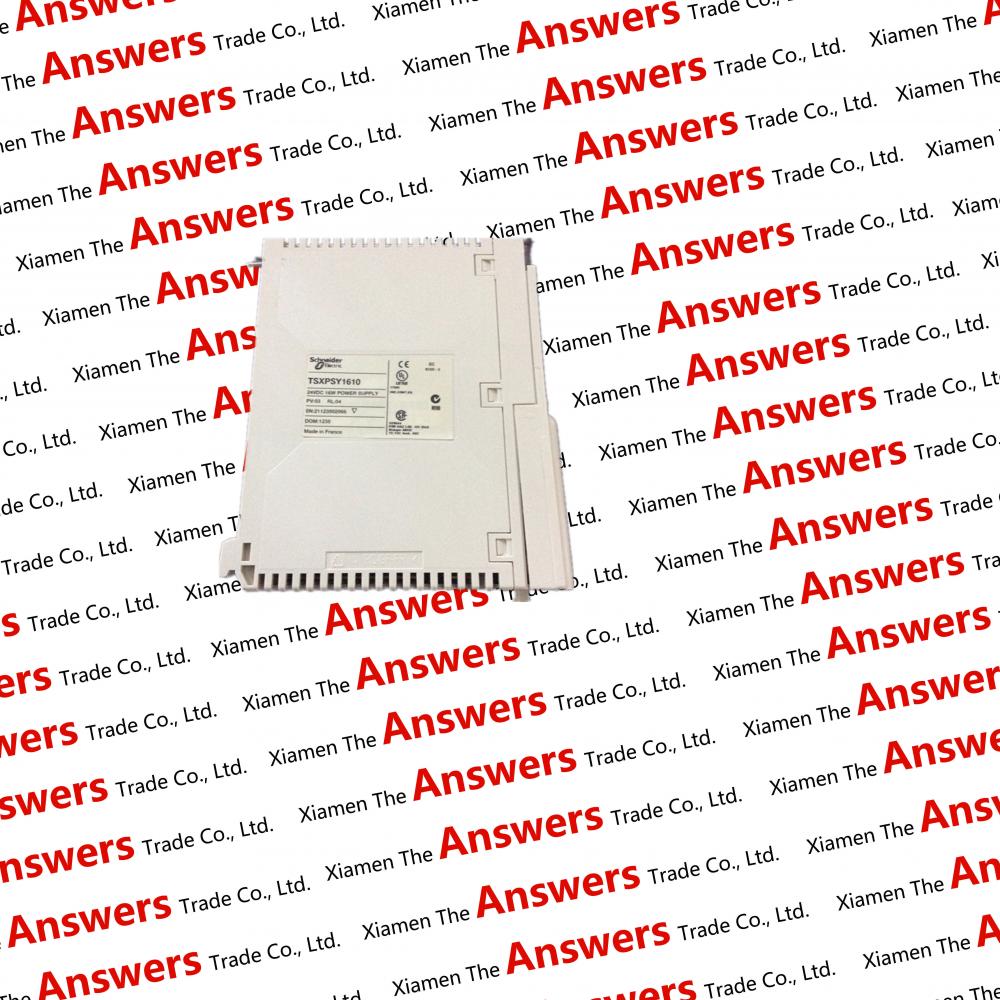 6EP1331-1SL11
69 6EP1334-1SL11
70 6ES2002-0C
71 6EV310-0CC
72 6EV3111-0CC
73 6EV500-3AC
74 6EW1380-1AA
75 6FC5111-0BA01-00A0
76 6FC5203-0AC00-1AA0
77 6FC5611-0CA01-0AA0
78 6FM470-4BA20
79 6FV3200-0EC
80 6FW2101-3
82 6GK1143-0AA01
83 6GK1143-0AB01
84 6GK1243-3SA00
85 6GK1905-0FB00
86 6GK7343-5FA00-0XE0
87 6PA1000-BC
88 6PA1102-1BC
89 6PA3691-1BC
90 6PC1001-8DC P
91 6QN1013-3AD BOARD 4
92 6SN1118-0AD11-0AA1
93 6SN1118-0AE11-0AA1
94 6SN1118-0DG23-0AA1
96 6SN1123-1AA00-0AA1
97 6SN1123-1AA00-0HA1
98 6SN1123-1AB00-0AA0
100 6SN1146-1AB00-0BA1 D
101 7TL4400-0/BB 1
102 7TL4500-0/CC 2
103 7TW4500-0/BB 1
104 7TW4600-0/BD 1
105 C74334-A82-88 1
106 C98043-A1045-L
107 C98043-A1047-L
108 E88330-A9028-504-R0 E550 MA-W1172-S-A 3
109 E88330-A9028-507-R E550 MA-W1172-S-A 1
110 E89100-B1351-L1 1
111 E89100-B1501-L1 5
112 F78-922-000758 1
113 F78-922-110811 1
114 FM8-922-110811 1

6EP1333-2AA00
6EP1333-2AA00
C98043-A1047-L1-29
C98040-A1045-P3-02-85
C98040-A1045-P3-26-85
6FC5111-0BA01-0AA0
6FC5203-0AC00-1AA0
6FC5611-0CA01-0AA0
6SN1118-0AD11-0AA1
6SN1118-0DG23-0AA1
6SN1118-0DM33-0AA0
6SN1146-1AB00-0BA1
6SN1123-1AA00-0HA1

Looking for ideal Modicon Premium TSXPSY1610 Manufacturer & supplier ? We have a wide selection at great prices to help you get creative. All the Schneider Power Supply Module are quality guaranteed. We are China Origin Factory of Modicon Premium Double-format. If you have any question, please feel free to contact us.
Product Categories : Schneider Modicon > Modicon Premium PLC