Modicon Premium PLC Modicon PLC TSXDSY32T2K Digital Output Module.The installation of these Premium processors requires: b Unity™ Pro Medium, Large or Extra Large programming software. This is the same as the software for installing the Modicon M340 and Modicon Quantum platforms. b Optionally, depending on requirements: v The Unity Application Generator (UAG) specialist software for modelling and generating process applications v Unity EFB toolkit software for developing EF and EFB libraries in C language v Unity SFC View software for visualizing and diagnosing applications written in Sequential Function Chart (SFC) or Grafcet language CPU PARTS Programmable PLC Communicate MODULES Robots DCS.
Modicon PLC TSXDSY32T2K Digital Output Module
Modicon PLC TSXDSY32T2K Digital Output Module
Modicon PLC TSXDSY32T2K Digital Output Module
Modicon PLC TSXDSY32T2K Digital Output Module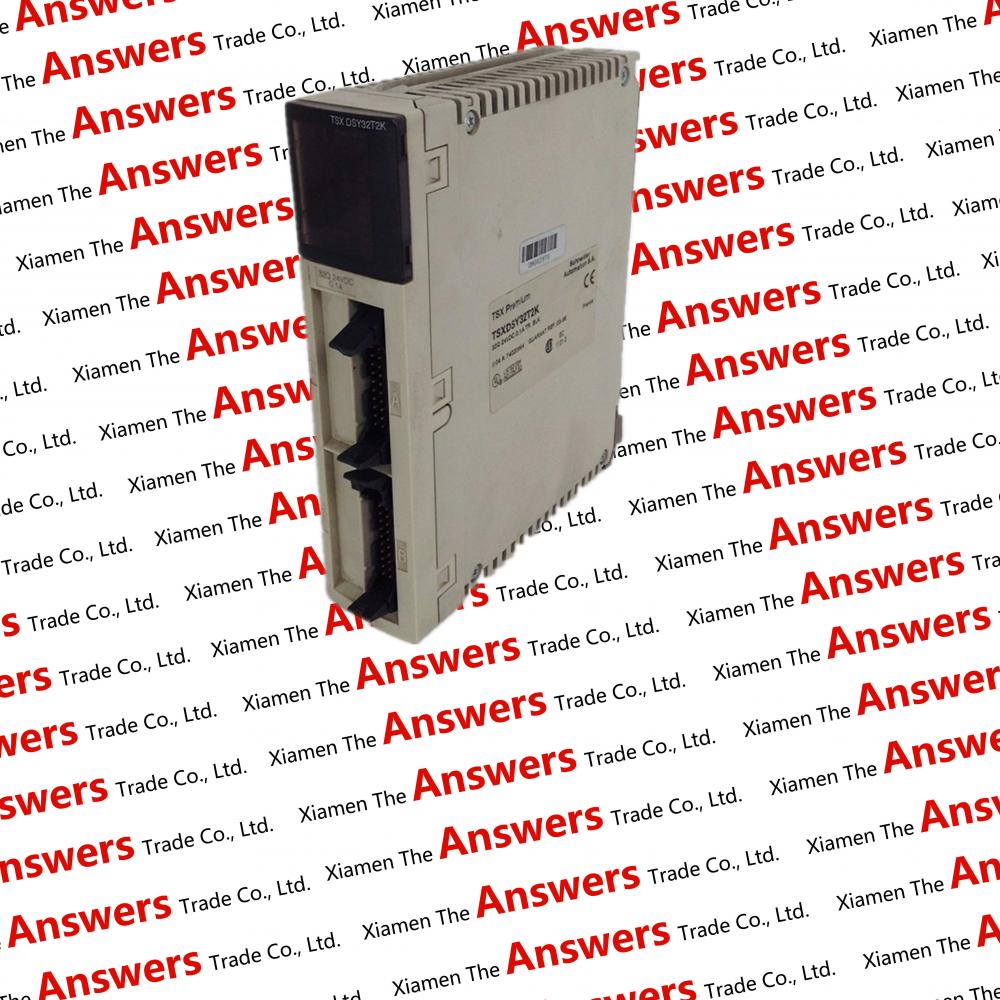 6EC1002-0A
6EC2491-0A
6QN1013-3AD
6FW2101-3
6EC1700-0A
6DC1014-1BC
6FW2101-3
6DC2003-1AC
E89100-B1501-L1
6PA3691-1BC
7TL4400-0/BB
6EC2480-0A
6EC2340-0A
6PA1102-1BC
6DC2005-8BC
6EC2340-0A
7T450-0/CC
6EC1710-0A
7TW4500-0/BB
6DT2003-0AC
6EC1710-0A
6EC1222-0A
6EV3110-0CC
6EC2501-0A
6EC2150-0A
6EC1002-0A
6EC1110-0A
6EC1605-5A
6EC2400-0A
6DC1017-8BC
6DC2004-1AC
6DC3005-1CC
6DC3016-1BC
6DC022-8AC
6EV310-0CC
6PC1001-8DC
NK10-15Z1ERN1
6EM3 910-6A
C74334-A82-D
6ES5711-OTD2
6EC1001-3A
6EC1603-3A
6EC1660-3A
6EC1702-3A
6EV5100-3AC
6QM1020
6DC3014-1AC
6DC3005-1CC
6DC2021-8AC
6DC1014-1BC
6DC1020 (3)E88330-A9115-S540
6DC2027(3)E88330-A9115-S549
6EC2680-0A
6PA1102-1BC
6PC2022-8AC
6PA1000-1BC
6EC1602-0B
6EC1710-0A
6DC4001-1AC
6DC1020(3)E88330-A9115-S507
6DC1017(3)E88330-A9115-S544
6DC4000-1CC
6DC2003-1AC
2004-1AC

Looking for ideal Modicon Premium TSXDSY32T2K Manufacturer & supplier ? We have a wide selection at great prices to help you get creative. All the Schneider Digital Output Module are quality guaranteed. We are China Origin Factory of Modicon PLC 32 Points. If you have any question, please feel free to contact us.
Product Categories : Schneider Modicon > Modicon Premium PLC