Rockwell Automation 1771-DA ASCII I/O.AB PLC-5 System Modules 1771-DA PLC-5 ASCII I/O Module, 1.5K words/3K bytes, RS-232-C, Communication Rate: 110, 300, 600, 1200, 2400, 4800, 9600 baud .ASCII is the acronym for American Standard Code for Information Interchange. The standard includes a 7-bit code for 128 data and control characters. With your ASCII I/O module you can transfer data, by means of the I/O scan, from an ASCII device to the PC processor data table, and vice versa. The module has two modes of operation, data mode and report generation mode. In data mode, you can transfer ASCII, BCD, or hex characters. Generally, use this mode to transfer data to the processor data table. In report generation mode, you can include BCD values in the string of ASCII characters. Generally, use this mode when you want to transfer messages. You can use your ASCII module with any Allen-Bradley Programmable Controller that has an expandable data table, block transfer capability, and uses the 1771 I/O structure. If you use a PLC-2/20 controller (cat. no. 1772-LP2), your programming will be lengthier because its processor does not have file move or block transfer instructions.CPU PARTS Slc 500 System Processor Allen Bradley Slc 500 System,Plc Slc 500 System Processor.
Rockwell Automation 1771-DA ASCII I/O
Rockwell Automation 1771-DA ASCII I/O
Rockwell Automation 1771-DA ASCII I/O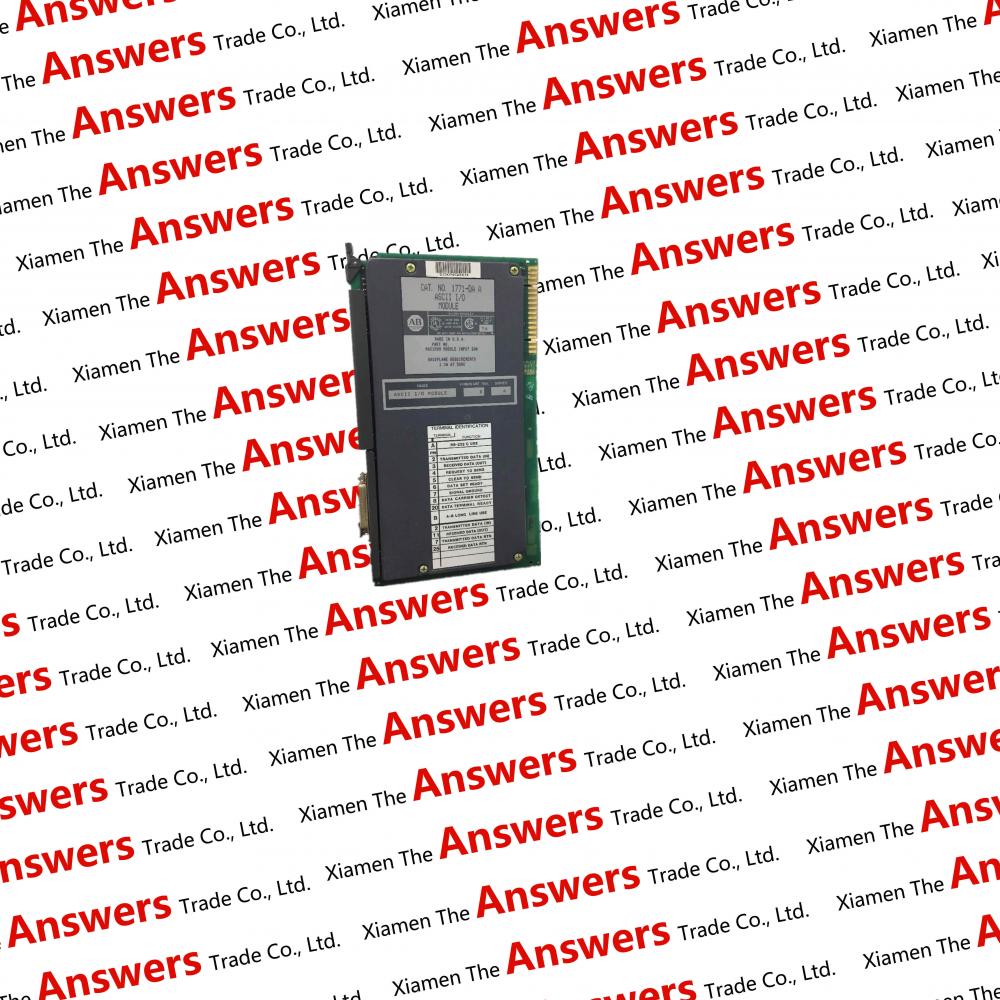 1771DB
1771DBMEM1
1771DBMEM2
1771HSN
1771HTE
1771IA
1771IAD
1771IB
1771IBD
1771IBN
1771IC
1771ID
1771ID01
1771ID16
1771IFE
1771IFEK
1771IFF
1771IFMS
1771IGD
1771IH
1771IL
1771IM
1771IN
1771IND
1771IQ
1771IQ16
1771IR
1771IT
1771IV
1771IVN
1771IXE
1771IXHR
1771NBSC
1771NBTC
1771NBV1
1771NC15
1771NC6
1771NIS
1771NIV
1771NIV1
1771NIVR
1771NOC
1771NOV
1771NR
1771NT1
1771NT2
1771OA
1771OAD
1771OBD
1771OBN
1771OD
1771OD16
Looking for ideal Rockwell Automation 1771-DA Manufacturer & supplier ? We have a wide selection at great prices to help you get creative. All the PLC-5 ASCII I/O Module are quality guaranteed. We are China Origin Factory of 1.5K Words/3K Bytes. If you have any question, please feel free to contact us.
Product Categories : Rockwell Allen-Bradley > AB PLC-5 System Modules