AB Compact Modules 1769-HSC CompactLogix 2/4-Ch High Speed Counter/Encoder . CPU PARTS 1769-HSC CompactLogix 2/4 Channel High Speed Counter/Encoder Module Programmable PLC. Both the 1769-L24ER-QBFC1B and 1769-L27ERM-QBFC1B packaged controllers provide the same high-speed counter (HSC) functionality as the 1769-HSC except for the input frequency. While many features of the 1769-HSC module are available with the embedded high-speed counters, some of the features of the 1769-HSC module are not available with the embedded high-speed counters of the CompactLogix packaged controllers. Features not available on the embedded high-speed counters include rate/timer functions and limited output range control (4 ranges instead of the 16 available with the 1769-HSC module). Specific differences between the 1769-HSC module and the packaged controller functionality are noted throughout this manual. Communicate MODULES Robots DCS.
1769-HSC CompactLogix 2/4-Ch High Speed Counter/Encoder
1769-HSC CompactLogix 2/4-Ch High Speed Counter/Encoder
1769-HSC CompactLogix 2/4-Ch High Speed Counter/Encoder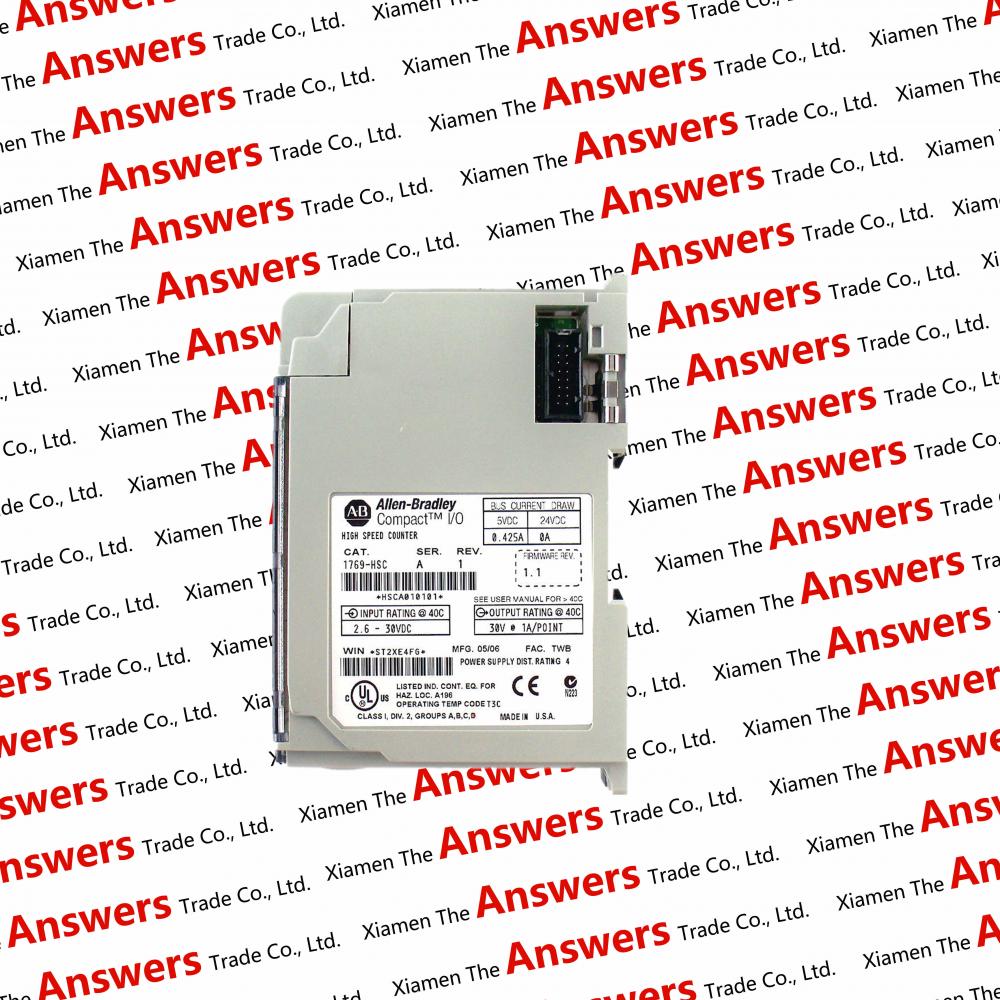 20AD027C3AYNANC0
20AD027C3AYYANC0
20AD034A0AYNANC0
20AD034A3AYNACC0
20AD034A3AYNADC0
20AD034A3AYNANC0
20AD034A3AYYANC0
20AD034C3AYYANC1
20AD040A0AYNANC0
20AD040A3AYNAEC0
20AD040A3AYNANC0
20AD040F3AYNANC0
20AD052A0AYNANC0
20AD052A3AYNACC0
20AD052A3AYNAEC0
20AD052A3AYNANC0
20AD052C3AYNANC0
20AD052F3AYNANC0
20AD052G3AYNANC0
20AD065A0AYNANC0
20AD065A0AYNANG0
20AD065A0NYNANC0
20AD065A3AYNADC0
20AD065A3AYNANC0
20AD065A3AYNANG0
20AD1P1A0AYNANC0
20AD1P1A0AYNNNC0
20AD1P1A3AYNAEG0
20AD1P1A3AYNNNC0
20AD1P1A3AYYAEC0
20AD2P1A0AYNANC0
20AD2P1A0AYNNNC0
20AD2P1A0AYNNNG0
20AD2P1A0NYNANC0
20AD2P1A3AYNACC0
20AD2P1A3AYNAEG0
20AD2P1A3AYNANC0
20AD2P1A3AYNNNC0
20AD2P1A3AYNNNG0
20AD2P1A3AYYANC0
20AD2P1A3AYYANG0
20AD2P1C3AYNANC0
20AD3P4A0AYNANC0
20AD3P4A0AYNNDC0
20AD3P4A0AYNNNC0
20AD3P4A0NYNANC0
20AD3P4A3AYNACC0
20AD3P4A3AYNAEC0
20AD3P4A3AYNANC0
20AD3P4A3AYNNNC0
20AD3P4C3AYNANC0
20AD3P4C3AYNNNC0
20AD3P4C3AYYANC0
20AD5P0A0AYNANC0
20AD5P0A0AYNNNC0
20AD5P0A0AYYANC0
20AD5P0A0AYYNNG0
20AD5P0A0NYNANC0
20AD5P0A3AYNAEC0
20AD5P0A3AYNANC0
20AD5P0A3AYNNEC0
20AD5P0A3AYNNNC0
20AD5P0A3AYNNNG0
20AD5P0A3AYYAEG1
20AD5P0A3AYYANC0
20AD5P0A3NYYAEG0
20AD5P0C3AYNANC0
20AD8P0A0AYNAEC0
20AD8P0A0AYNANC0
20AD8P0A0AYNNNC0
20AD8P0A0NYNANC0
20AD8P0A3AYNACC0
20AD8P0A3AYNACG0
20AD8P0A3AYNAEG0
20AD8P0A3AYNANC0
20AD8P0A3AYNANG0
20AD8P0A3AYNNNC0
20AD8P0A3AYNNNG0
20AD8P0A3AYYAEG1
20AD8P0A3AYYANC0
20AD8P0A3AYYNEG0
20AD8P0A3AYYNNC0
20AD8P0C3AYNNNC0
20AD8P0C3AYYANC1
20AE011A0AYNNNC0
20AE017A0AYNNNC0
20AE017C3AYNNNC0
20AE022A0AYNNNC0
20AE027A0AYNNNC0
20AE032A0AYNNNC0
20AE041A0AYNANC0
20AE052A0AYNANC0
20AE052F0AYNANC0
20AE0P9A0AYNNNC0
20AE1P7A0AYNNNC0
20AE2P7A0AYNNNC0
20AE2P7A0AYYNNC0
20AE3P9A0AYNNNC0
20AE6P1A0AYNNNC0
20AE9P0A0AYNNNC0
20AE9P0A0AYYNNC0
20AE9P0A3AYNNNC0
20BENC1
20BENC2
20BENC3
20BPUBIN1EN
20BSTDA0
20BSTDB0
20BSTDN
20BVECTC0AD
20BVECTC0AE
20BVECTD0AD
Looking for ideal Rockwell Automation 1769-HSC Manufacturer & supplier ? We have a wide selection at great prices to help you get creative. All the CompactLogix 2/4 Ch are quality guaranteed. We are China Origin Factory of High Speed Counter/Encoder. If you have any question, please feel free to contact us.
Product Categories : Rockwell Allen-Bradley > AB Compact Modules